Luxury chalets in the heart of nature!
Book and enjoy an unforgettable stay in the heart of nature!
BOOKING
GIFT CERTIFICATE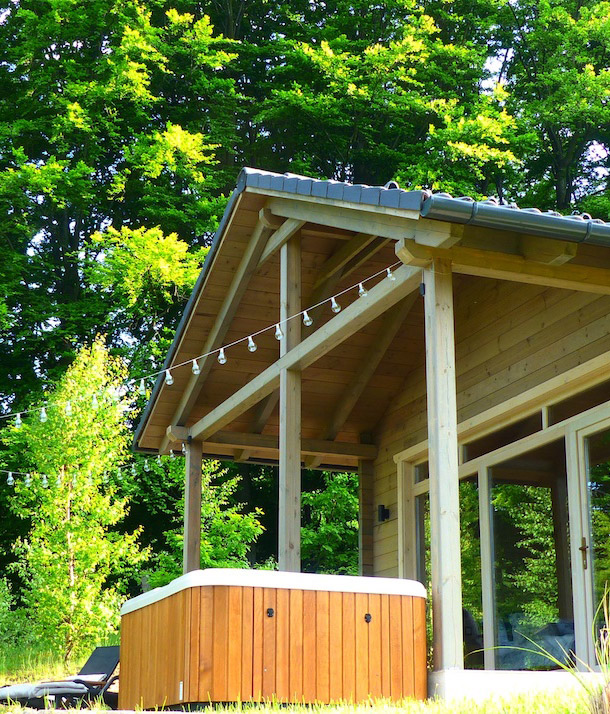 Get to know our guest houses
in particular
The "Chalet for you" accommodation includes two two-person chalets. The two houses are located 20 meters apart, each one is ​​30m2, studio style.
Both of our guest houses are designed for a maximum of 2 people. It is designed for couples, parents who would like to relax, unwind and recharge. The area is located on a sloping hillside, surrounded by beech and pine forest, so both the chalets and the sauna house offer an unparalleled 180-degree view of the small village hidden in the valley and the mountains and forest opposite. We are often visited by deer, foxes, hedgehogs and squirrels because we are close to their natural habitat.
GUEST HOUSES
ABOUT
Gift certificate for any occasion
Whether it's a wedding gift, birthday, name day, wedding anniversary, or just because, treat the ones you love to a mountain wellness break in a newly-built fully-equipped authentic wood chalet. We will create an attractive gift voucher for the recipient, complete with special decorative packaging.
ORDER
Private 2-person jacuzzi with a view of the stars!
Detached panoramic Finnish sauna house for a complete wellness experience
High quality, 100% natural essential oil for a complete sauna experience
Details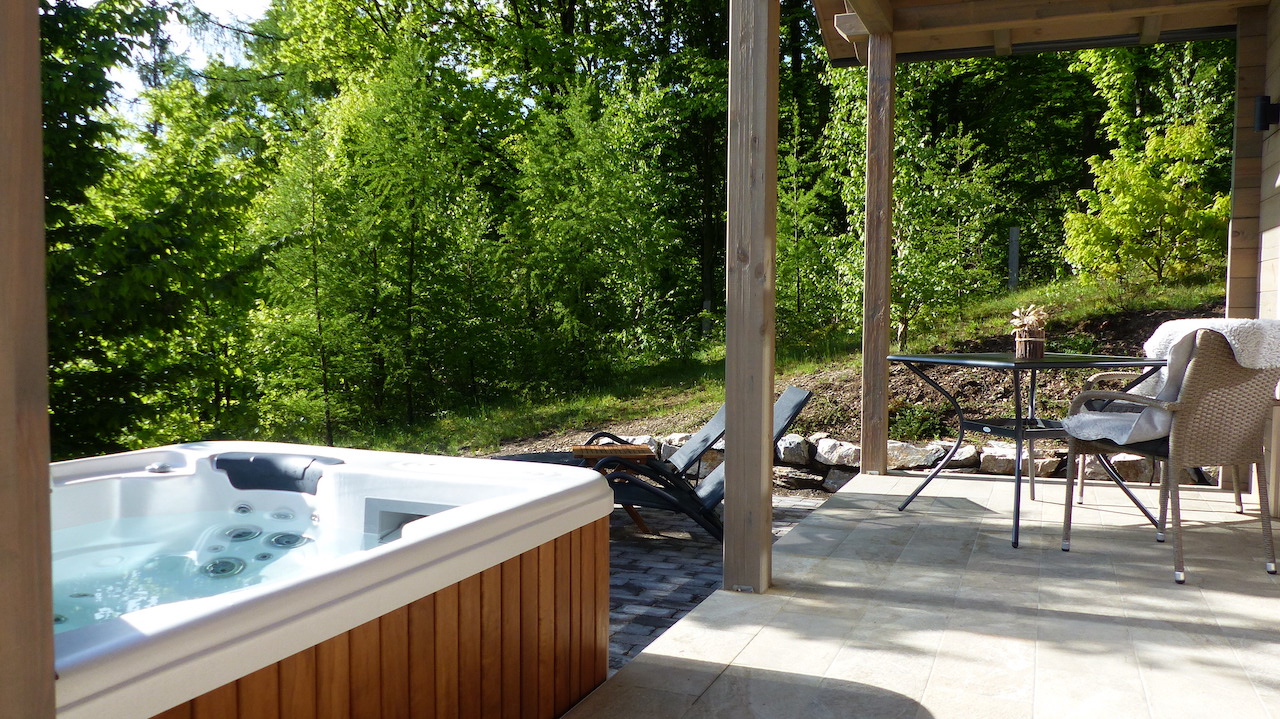 "I had a great time at the Great Tit chalet. I was able to switch off, leave my worries behind, and it was especially good to get out of the fast moving world. The sound of the birds, the landscape, the hot tub, the sauna are all perfectly switched me off. The breakfast is very delicious and a lot, the house is well equipped and Szilvi and Tibi are infinitely kind hosts."

Vivien
"We were able to spend a great weekend here in this wonderful environment surrounded by natural beauties. Great place to leave behind your worries. Of course, the owners also played a prominent role in this, providing us with this intimate tranquility and relaxation. The mattresse was fantastic and comfortable, the furnishing of the house is sophisticated and there was a the picnic basket with breakfast: the home-made jam, fresh baked goods, tastefully served delicacies, delicious wine on the table. Beautiful place, beautiful countryside, beautiful log houses. We can only recommend this beautiful and friendly accommodation to everyone because we have been recharged so that it will last for a while..."

Andi and Árpi
"The environment speaks for itself! We managed to relax and recharge our batteries with positive energies. The chalet is a little magic cabin with every detail figured out, you feel good in it. The sauna cabin also gives an extra experience, the view from it is wonderful. We got fantastic breakfasts, it was prepared with the heart and soul of our hosts."

Annamari and Péter
"3 days in these fabulous circumstances was enough for us to realize: we want more of this! We will return, we can promise it now."

Detti and Gergő
"The Szalakóta Chalet has allowed us to have a quality recreation that we have not had for a long time. Our comfortable, tastefully furnished "temporary home", the hot tub, sauna, here in the peaceful and charming valley of Répáshuta have met all our culinary, comfort and aesthetic needs."

Saci and Andrew
"Dear Szilvi and Tibi, What you have created here is paradise on earth itself, an island of tranquility. True love and care flows from every corner of the Chalet, not to mention your hospitality and 5-star service. Thank you for being able to have such an unique experience and being fully recharged in those few days. We hope to get here again soon, in the meantime we recommend the place to everyone!"

Eszter and Balázs
"We spent the third stop of our honeymoon here at the Great Tit Chalet and what a good decision we made! This chalet and the surrounding area are extremely heartwarming and wonderful, but what makes this place truly special and unforgettable is that you have realized the dream you had in your heart. This can be felt in the furnishings of the chalet, in the small details, but also in every component of the carefully selected breakfast. We are grateful to have been here and to get a share of your outstanding hospitality that is within you! We wish God a rich blessing on your life and work! Grateful thanks,"

Leila and Zoltán
"Dear Szilvi and Tibi!
This weekend went by very fast, we wonder, was it real? You have created a wonderful place, you can see the sophistication in every corner and you can feel the love, the home-like warmth! We had a great time and would love to come back. Words cannot describe the experience here. Thank you for making this weekend special for us. We will always remember it!
We wish you the best and keep it the same way!"

Dóri, Roland
"From the first moment to the last, this little jewel box provided just what we humans need in this fast-paced, rushing world: calm, intimacy, close to nature... We experienced all of this in such a way that we could feel the full luxury around us. You managed to stop time for us for a weekend! Thank You,"

Timi and Peti
"We can feel ourselves lucky because we have been to many places here and around the world, but we can say without exaggeration that this was one of the most beautiful experiences we had together. Not only because of the environment, the view and the log house, but also because it would be difficult to find more hospitable hosts than you. Your stories and personalities are inspiring and we wish that all your dreams come true! In addition, we arrived as friend and girlfriend, and left as groom and bride. They were unforgettable days, thank you for everything!"

Olivia and Mate
Répáshuta is the only village within the forests and mountains of the Bükk National Park
Some convenient walking/hiking trails are within walking distance of the guest houses
Mountain hike with a guide
Private telescope astronomy show
There's more to do less than an hour's drive away
Book your accommodation and get rich in an unforgettable way
with relaxation in the heart of nature!
BOOKING